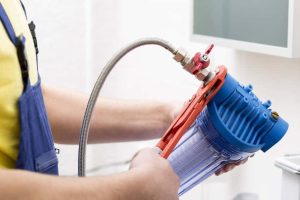 Dusty Underwood Septic and Plumbing strongly encourages homeowners to install a water filtration system. This feature will help protect your family's health. Here are some of the biggest myths about water filtration.
Myth #1- Water Filtration Systems Are High Maintenance
Contrary to common belief, water filtration systems don't require a great deal of maintenance. Although you'll need to change the system's filter roughly every six months, this proves to be a simple task. After a plumbing company installs your new filtration system, you won't have to worry about spending a lot of money on upkeep.
Myth #2- Bottled Water Is Cheaper
Because their household's water isn't the best, many people opt to purchase bottled water. Over time, the cost of buying bottled water every week will eventually start to add up. If you want to save more money in the long run, plumbing services providers advise you to invest in a water filtration system. Your family will then enjoy an endless supply of clean drinking water.
Myth #3- Water Softeners Work Just As Well
Water softeners are designed to remove natural minerals from your water, which can lead to clogging that requires extensive plumbing repairs. However, don't expect a water softener to kill disease-causing germs and bacteria. To get rid of any potential toxins, you will need to have a water filtration system installed.
Myth #4- City Water Is Already Purified Enough
The city's water treatment facility works hard to remove impurities. However, tests show that some contaminants can still be found in the water. The chemicals used by water treatment facilities also give the water a dull taste. If you desire great-tasting water that's free of toxins, ask a plumber in Bonham, TX, to install a filtration system.
When in need of emergency plumbing or service, contact Dusty Underwood Septic and Plumbing. Call us or fill out the online form to schedule an appointment.
We Offer the Best Residential and Commercial Plumbing and Septic Services in Our Area!